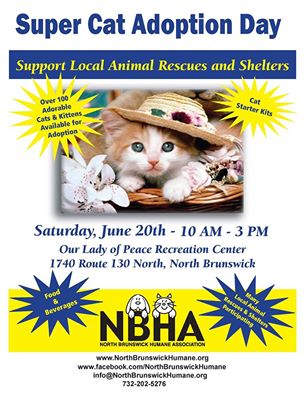 Cats and kittens from throughout New Jersey are packing their bags and heading to North Brunswick with hopes of finding their forever homes. On Saturday, June 20th, from 10 am – 3 pm, the North Brunswick Humane Association is sponsoring the 4th Annual Super Cat Adoption Day, where families in search of a feline friend are sure to find their perfect match. This popular and successful event brings together New Jersey rescues and shelters who will be bringing 150 cats and kittens to the Recreation Center at Our Lady of Peace Church, located at 1740 Route 130 North in North Brunswick.
Dr Laffoon from Raritan Animal Hospital will be available to answer questions and provide advice to all adopters. The event also offers a terrific going home gift basket filled with goodies and necessities for each approved adopter as well as food vendors for the hungry humans.
This year, for the first time, a veterinarian will be on hand to implant cats and kittens with Home Again microchips. The fee for the service, a pet identification and retrieval system, is $25, and covers the cost of the chip and lifetime registration.
For more information  call 732-202-5276.